Your Winnipeg Roofing Experts
Try-Dale Construction is your Winnipeg (and surrounding area) roofing company. With a solid track record of superior service, reaching back 20 years, we'll help fix your roof, whether you need new shingles, a new roof, a small repair, or a brand new roof, we can help.
About Try-Dale
Establishing committed work ethic, quality products and excellent service, Try-Dale offers roofing services to Winnipeg and surrounding rural areas.
We're fully insured to provide quality workmanship and products giving you peace of mind that your home is definitely your pride and joy.
Hi, I'm Dale Klassen, owner of
Try-Dale Construction.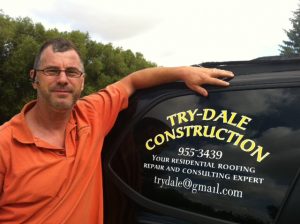 Dale Klassen started in the construction business in 1985. Working across Canada gaining knowledge of the roofing trade and has begun his own residential roofing business here in Manitoba and has since then committed to working with the residents in Winnipeg and rural areas of Manitoba.
As an independent roofing contractor, he strives to meet the needs of his clients, with the best of personable service in the business.
We had our shingles and eaves troughs replaced by Try-Dale and it was a great experience.  We had 3 companies quote on the job, and of the three, we were most impressed with how much time Dale actually spent up on the roof, assessing its condition and determining exactly what was needed.
Dale came out to our home, shared his ideas and even drove us around the neighborhood pointing out various roofing materials and options. He actually came back twice at our request to answer questions and guide us through the decision making process. We hired him, and Three weeks later on one hot weekend the roof was done, and the job finished in just two days.
Leave a Review
We want to Thank You for being a great client and hope that your experience was an excellent one. Before you leave, we would like to ask you to leave us an online review. Google and other search engines rate businesses online based on reviews that customers like you leave for them. It makes a huge difference to our business, and we would appreciate it greatly.
You can leave a review on any of these fine online review sites. Just click on the link below the image. Please note, you may need to quickly create an ID on one of these sites, and we appreciate those extra steps: